As many of you know by now, the most interesting articles for me are those where I am either writing about crunching through numbers myself or reviewing the work from other organizations.
We are once again ready to crunch through Tesla's (NASDAQ:TSLA) 10-Q released a short while ago. As we already know Tesla's loss in Q3 was over $600 million, far exceeding my guess of $450-500 million. The average price per delivered unit dropped by over 13% in Q3. That is a whopping decline in average selling price of over $13,000 per unit.
For this entire article, these two links for Q3 (here) and Q2 (here) 10-Qs should be all the reference sources you will need.
By the zones
Tesla reports global revenues by breaking them down into four zones. The U.S, China, Norway, and all Others lumped into one group. If we subtract out Energy generation/storage, Services and other, and ZEV credit sales, we should have a pretty accurate number of New Automotive Sales for the four regions. We know of little in the way sales outside the U.S. for energy and services, so until Tesla offers us better information, I am giving the U.S. all the credit for these revenues.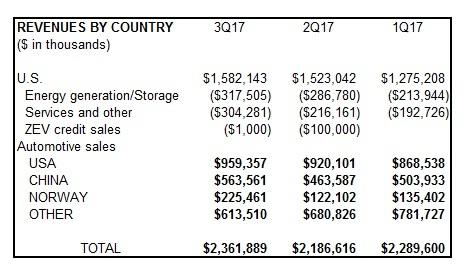 What is startling is the decline in growth of new car sales revenue for the U.S. After delivering over 4,100 more units in Q3 over Q2, and increasing revenues by $175 million, why was the U.S. not a bigger participant? Sales only grew by $39 million, which included 220 Model 3 units. Using an average of $50,000 for each Model 3 means Tesla had $11 million in sales. That reduces the Model S and X growth to just $28 million in the U.S. What we find is a slowing increase in sales in the U.S. and strong growth in China and Norway. For Norway, this matches the information in updates I receive from Andreas Hopf for that region. However, the $100 million in new Chinese growth is a bit of a surprise. While numbers are difficult to come by, evobsession.com had Chinese sales at just 2,100 new units in the last month of Q2. At the end of June, the same website was estimating total sales of Model S and X at a combined 9,299 units. If we add the revenues from Q1 and Q2 and divide by the number of units, we arrive at an average sale price of $104k in 1H17. Apply that number to the revenues and we can estimate sales at 5,418 units. Evobsession.com had Tesla sales at 310 units in July and 1,700 in August. That would mean a rough delivery number of 3,408 in September or a 62% increase in sales over Q2. While not out of the question, it may be a better indication of a growing number of used car sales in China.
What do the "deliveries" numbers represent?
Tesla reported an increase in deliveries of over 4,100 units in Q3, but it appears new vehicle revenues only increased $175 million or an average of $42,682 per unit. Something is way off. There are only two explanations.
I have gone back two years through every delivery report. The word "new" is never used. Could Tesla be now (or may have always been) reporting CPO sales in deliveries? (I have not been able to confirm this one way or the other because Tesla has not responded to my questions on the issue.) CPO units are being given the same treatment at the delivery centers as new units. The cars are refurbished to look as close to new as possible (at great expense it would appear). So why would they not be?
The second option is Tesla gave away everything but the sales office furniture to achieve those additional sales in Q3. This is the more probable answer. Jon McNeill was promised a $700,000 bonus in late August if he could "move the metal". He is doing just that. It would explain the huge average price drop from $103,937 in Q2 to $90,320 in Q3. We also know the Q3 sales exceeded available production by over 2,000 units built before Q3. Where these units are being stashed until sold is anyone's guess. But my calculations show here are still 6,600 unsold units accumulated just since Q3 last year (see chart below).
The Tesla website currently claims there are no new 75kWh battery pack cars remaining. Sadly, this is not true because it is easy enough to go to the EV-CPO.com website, do an inventory sort for 75kW cars and find direct links to specific cars back on the Tesla website ignored by an inventory search. For a tech company, as Tesla claims to be, its website is amateurish at best, and pretty much useless.
Are increased sales really helping?
Tesla revenues set a new record in Q3 at nearly $3 billion. But is Tesla getting anywhere by growing revenues? It appears not. While revenues increased by just 7%, the costs of goods sold jumped a huge 19%. This slashed gross profit by 32%. Management can make all the excuses it wants but just growing sales is not working.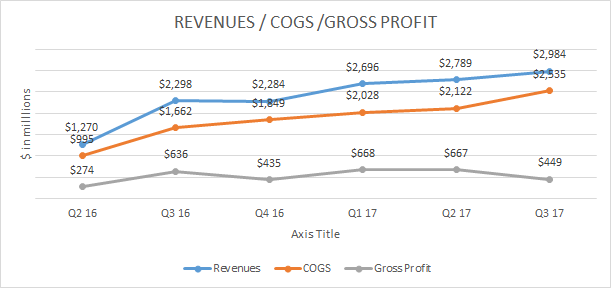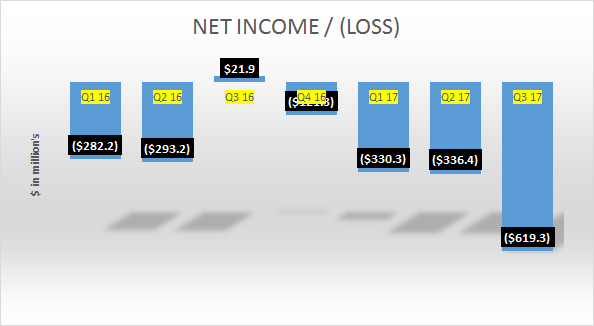 As you can read in the chart above, Tesla's quarterly loss took a HUGE jump in Q3. This was caused by not only a drop in gross profit shown above but also continued increases in R&D and SG&A expenses. Whether the recent reductions in headcount will offer any relief in either direct or indirect labor expense is doubtful since Tesla seems to be planning to replace most of the fired workers.
Inventory
In my most recent article yesterday, I took a lot of flak for my predictions regarding what the new inventory numbers would reveal. I was partially right and partially wrong.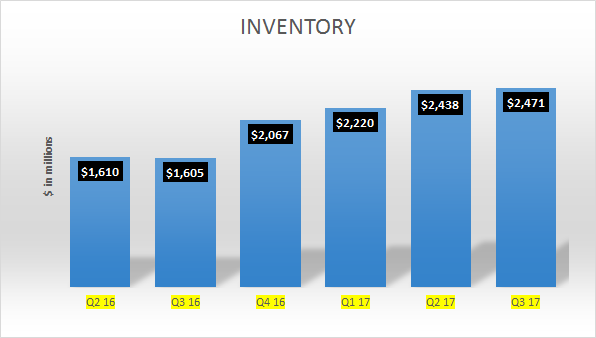 We know that the average unit sold for $90,320 in Q3. We know that the accumulated inventory was reduced by 2,174 units or about an adjusted $147 million by removing at a 25% gross margin.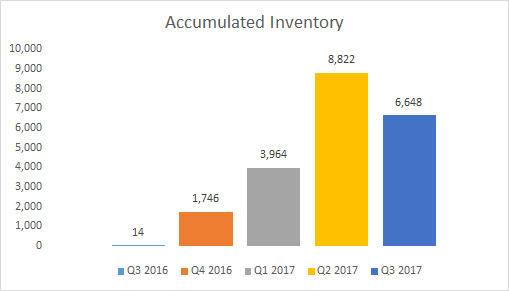 But we now know finished goods only lowered by $52 million. That should mean Tesla was sitting on about $95 million worth of finished Model 3 units on 9/30. On a cost basis of $35,000 for each retailed $50,000 unit, there should be over 2,700 Model 3 units sitting somewhere as of Sept. 30. But Tesla only claimed to have 40 units sitting on 9/30. Is Tesla now recording 2,600 partially built Model 3s as finished goods? Are they all sitting waiting for their battery packs from the Gigafactory?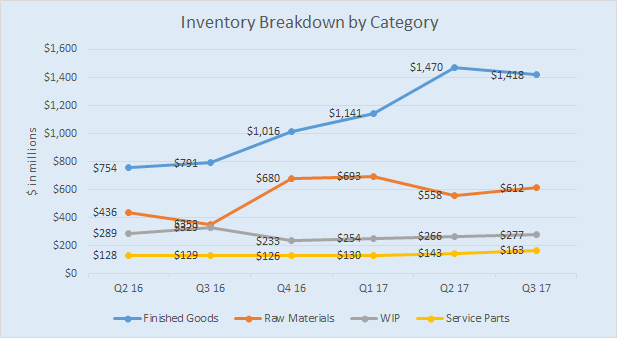 The only substantial inventory growth was in raw materials and not in work-in-process (WIP) as you would expect for a new model ramping up production.
So where are these hundreds of thousands of anticipated parts coming from the suppliers? As one commenter suggested yesterday, Tesla should be sitting on trainloads of parts from suppliers by now. The $54 million in raw materials is probably in aluminum and steel needed for all of the cars since they are still building all three models.
Does this mean all of the incoming shipments were not recorded or unloaded in September? If so, we are going to see a huge increase in accounts payable in Q4.
I will agree I may have gotten a bit ahead of my skis on finished goods. But Tesla still needs to explain the $95 million discrepancy. If it is indeed partially completed units that is a big change in its reporting.
Recap
Higher sales
Lower profits
Bigger expenses
Higher losses
Add these all up and you have a company that should get out of the car business and stick to "energy generation and storage". It is the only place Tesla knows how to make money it seems after more than 13 years in business.
Based on inventory counts, it seems Tesla never had any plan to build 5,000 units a week in 2017. It doesn't have the parts to build that many units a month let alone a week. Unless we see a big leap in inventories in Q4, it will certainly not have the parts to build them in Q1 either.
The conference call struck me as a group of men struggling to find answers to some very basic questions. How do we control costs while selling more product? Why can't we build a simpler car in less time than it took to ramp up the Model S? Why do we need more people and spend more money to build a car than every other manufacturer on the planet?
Bill Maurer had a great article (here) on the rising guarantee obligations Tesla is facing. Just one more nail in the proverbial coffin.
If it doesn't figure this out soon, Tesla won't be around by the end of 2018.
Disclosure: I am/we are short TSLA VIA OPTIONS.
I wrote this article myself, and it expresses my own opinions. I am not receiving compensation for it (other than from Seeking Alpha). I have no business relationship with any company whose stock is mentioned in this article.
Additional disclosure: I would like to thank the many SA readers who have helped make me the #1 most read author in both the "Short Ideas" and "Consumer Goods" categories! I do my best to make my articles not only informative but also entertaining and thought-provoking. If you want automatic notification and faster access to all of my new articles, please click the "Follow" button at the top of this article and check the "Get email alerts" box.