Investment Thesis
As mentioned before in my previous article (here) on AT&T (T) it is becoming more difficult to find quality dividend paying stocks from the S&P as the index has continued to reach all-time highs. In fact, since November 2009 the S&P 500 has returned nearly 150%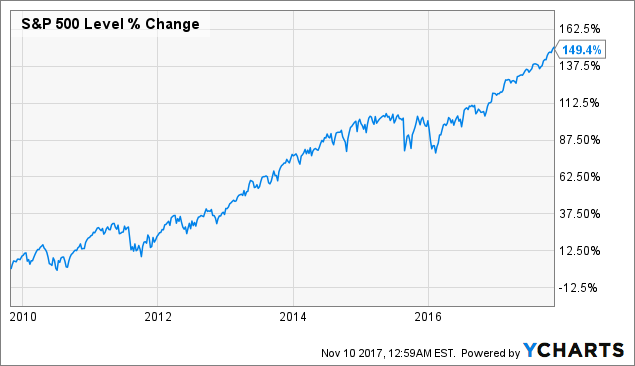 When we consider the impact of the chart above and an average P/E ratio of 25.8 it raises the question: "Can an investor still find quality dividend-paying stocks in today's market, or do we need to abandon quality in search of more reasonably valued securities?"
Less than a week ago I would've suggested that investors consider AT&T as the price difference between it and Verizon (VZ) and T-Mobile (TMUS) became too significant to ignore. Over the last few days, this price discrepancy has started to correct for AT&T but has begun to widen for Verizon. Given that Verizon stock finds significant support (over the last five years) at $43.75 I believe that the time has come to purchase shares of Verizon.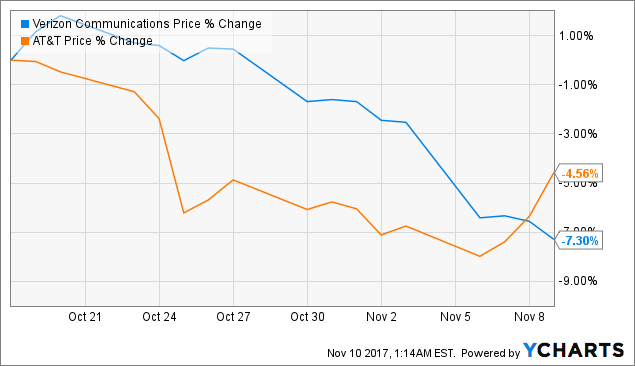 The remainder of this article will be used to establish why the opportunity to purchase AT&T at a discount is fading but Verizon's continued drop in price has created an excellent buying opportunity for long-term investors and Dividend Growth Investors (DGIs).
Verizon's Support Point
Looking at the five-year chart for Verizon it's easy to spot where it support point is. To support my theory with Verizon, I will explain how I applied the same model to AT&T to figure out where its bottom would be.
It was my belief that AT&T support point would come as the dividend neared 6% and the stock made a significant balance at its new 52 week low of $32.55 (6.02% dividend yield). A 6% dividend yield wasn't an arbitrarily chosen number as a five-year chart of AT&T shows that the stock reaches significant support around $32.50/share.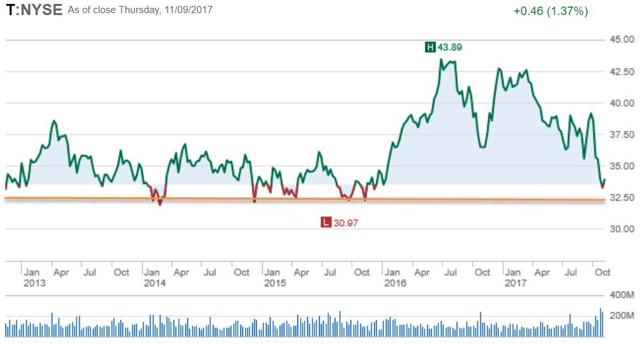 Source: Charles Schwab – AT&T 5 Year Chart
If we look at Verizon using the same methodology we can see a very similar support point that has been tested over the last five years.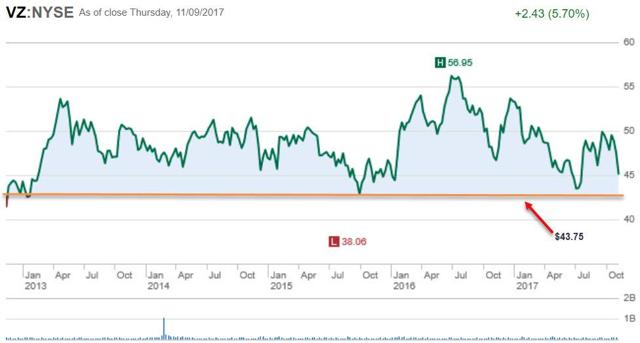 Source: Charles Schwab – Verizon 5 Year Chart
For investors who are determined to buy the lowest possible point, they will likely need to wait, however, with speculation towards AT&T's merger subsiding it is possible that Verizon may not reach the support point. In any event, picking up shares of Verizon has a lot of potential upside at its current price of $45.07.
PE Ratio Comparison
In a market where the average S&P 500 company has a P/E ratio of 25.8, it makes really good sense to purchase companies whose P/E ratios are significantly less (especially when those companies come from the same index). For investors who want a better understanding of a P/E ratio, I suggest reading 5 Must-Have Metrics For Value Investors.

Source: Charles Schwab – Ratios
Remember, the primary reason why I suggested investing into AT&T wasn't based on P/E ratio, but because the merger in recent earnings miss had caused the stock to be disproportionately impacted when compared to Verizon and T-Mobile.
Now that that price disparity has begun to correct it is worth considering an investment in Verizon is its P/E ratio and forecasted P/E ratio are both less than 12. In other words, the market isn't expecting much from Verizon and any positive news that comes out has the potential to serve as a catalyst upwards.
Cell Phone & Data Trends
A historical timeline of the cell phone industry and changing consumer trends paints a clear picture that the industry behemoths are set to dominate for years to come. The biggest advantage companies like Verizon and AT&T have is that it is extremely costly for a competitor to establish a quality network that can compete with their current capacity.
According to Pew Research, Almost every American owns a cell phone (approximately 95% of adults) but the real catalyst for the cell phone industry has been the adoption of smartphones which has grown from 35% in 2011 to more than 77% as of 2017. Consumer preference for smartphones has significantly increased margins for both AT&T and Verizon.
Teenagers serve as one of the fastest-growing groups of smartphone users especially in regard to data usage. In my previous article on AT&T, I came across the statistic that "teens have increased smartphone TV/video viewing 85% in 4 years."
The statistics concerning millennials' cell phone usage can be pretty overwhelming, if not, downright scary. A survey by Bank of America (BAC) gathered information from more than 1,000 people and found that 40% of millennials say "they interact more with their smartphones than they do with their significant others, parents, friends, children or co-workers."
While I do not support these trends (call me an old soul), I cannot ignore them. It's no wonder that every company is rushing to create a functioning mobile platform.
Dividend Coverage
Although Verizon doesn't have the same track record as AT&T, I consider managements commitment towards increasing the dividend just as commendable. Here are some of the metrics concerning Verizon's dividend:

Source: Dividend.com
In regard to dividend growth, Verizon comes out on top as their increases have been more favorable for shareholders by a small margin. I expect that Verizon will continue to increase the dividend by 3% on average every year until its other areas of business begin to generate more revenues. This is slightly more favorable than the roughly 2% average increase that AT&T offer shareholders.
The real beauty of Verizon's dividend is that (much like AT&T) it is one of the highest paying S&P 500 stocks available that is not a real estate investment trust (REIT) or a master limited partnership (MLP). As a "qualified dividend" it makes this an excellent stock that can be held outside of a retirement account with favorable tax advantages.
Conclusion
Verizon's closing price on Thursday of $45.07 has put the company on my radar. With a current P/E ratio and forward P/E ratio less than 12, I see Verizon as a common-sense investment for long-term investors and DGIs. I believe that Verizon's current drop in price is largely due to the controversy associated with the telecom industry. Of all the telecoms, Verizon has exhibited the least amount of controversy when compared to AT&T, T-Mobile, and Sprint (S).
With an earnings beat for Q3-2017 under its belt and a very clear support level of $43.75, I see a bright future for Verizon going forward.
My clients are long VZ, T.
Final Note: If you enjoy my articles, please take the time to follow me. While I enjoy performing analysis, following me is the best method for showing me that SA subscribers are finding my work useful.
If you have any suggestions to improve my articles or if you would like me to perform analysis on a stock or your portfolio please feel free to message me and I will do my best to make it happen. I truly appreciate thoughtful feedback and would love to create content that is meaningful for my followers.
Disclosure: I am/we are long T.
I wrote this article myself, and it expresses my own opinions. I am not receiving compensation for it (other than from Seeking Alpha). I have no business relationship with any company whose stock is mentioned in this article.
Additional disclosure: This article reflects my own personal views and is not meant to be taken as investment advice. It is recommended that you do your own research. This article was written on my own and does not reflect the views or opinions of my employer. I do not currently own shares of VZ, but I may choose to establish a position in the next 72 hours.
Related Posts: